Last Updated on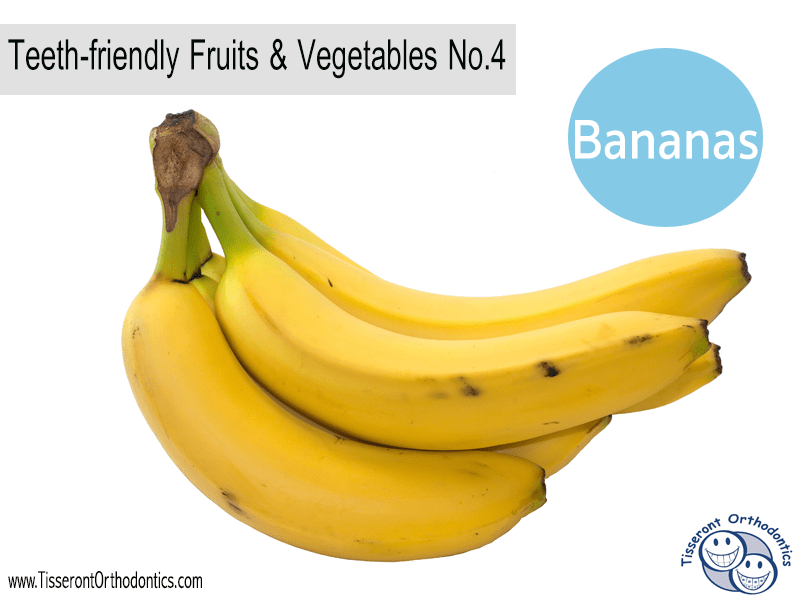 Teeth-friendly Fruits & Vegetables No. 4: Bananas
When you begin orthodontic treatment, an orthodontist will explain how important it is to consume healthy foods that contain a lot of nutrients. You are not permitted to eat hard foods such as popcorn, nuts or corn chips while wearing braces because these items can break the wires. If you want a snack to take to work or school each day, then choose a delicious banana. There is nothing easier than grabbing a banana to put in a lunch box or backpack, and it is in its own hygienic wrapper that nature has provided.
A Banana Has a Lot of Nutritional Value
However, the most important things about bananas are that the fruit is soft, making it easy to chew while you are wearing braces. Bananas also provide several nutrients, including:
Potassium
Vitamin B6
Manganese
Vitamin C
Riboflavin
Eating bananas several times a week for breakfast or for snacks can help to keep your facial bones strong along with preventing inflammation in your oral tissues. Not only can you eat a banana alone, but also, you can slice it to put it on cooked oatmeal or on vanilla yogurt. If you wear Invisalign aligners, then remove the items before eating anything. After eating, always remember to rinse your mouth with water or brush your teeth to remove food debris to prevent cavities.
Schedule an Appointment with Tisseront Orthodontics
At Tisseront Orthodontics in Reston, Va., you can receive a free consultation with Dr. Stephan Tisseront to learn more about your orthodontic options. Our orthodontist takes care of children, teenagers and adults at our top-of-the-line office, and he offers these treatments:
• Lingual braces – worn on the backs of teeth
• Invisalign – aligners for teenagers or adults
• Ceramic orthodontia – made with clear wires and color-matching brackets
It is also possible to reduce your orthodontic treatment time by using a small device from AcceleDent Aura that helps to accelerate the movement of your teeth into the correct positions.
Call us today at 703-773-1200 to schedule an examination with Dr. Tisseront in our state-of-the-art orthodontic facility.
Tisseront Orthodontics
11720 Plaza America Drive, Ste. 110 Reston VA 20190-4762
Phone: (703)773-1200
Teeth-friendly Fruits & Vegetables No. 4: Bananas