Last Updated on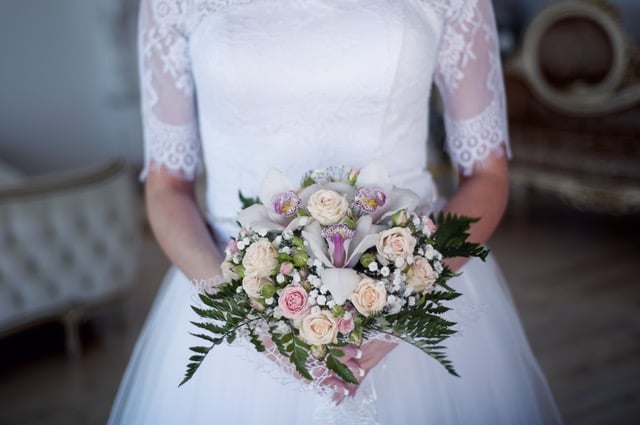 Should I Get Braces Before My Wedding?
If you're about to get married, then congratulations are in order! We're thrilled for you and your impending nuptials. As you and your spouse begin your new life together, it'll be a day you're unlikely to forget. You're likely to be elated to the point that you're smiling from ear to ear. With all the preparation that's involved in a wedding, wouldn't you like to make your smile look absolutely perfect? Fortunately, there's a way to help make that a reality.
A Big Decision
Getting braces is your own choice, and you should by no means feel pressured one way or another. It certainly isn't a decision that you should rush. If you're engaged but don't have a date set in stone, or if you and your significant other have discussed marriage without making a commitment, now would be a good time to start looking into getting them. You don't want to be a week away from your wedding date and suddenly decide you want to straighten your teeth. As an adult, you can expect to be in them from anywhere between 18 months and three years. Therefore, it's imperative that you factor time when it comes to considering this.
Talk To Others
While you shouldn't feel pressured by others with this decision, you should be open to others' ideas and opinions, particularly your spouse-to-be. Ask them if they would appreciate you straightening your teeth before the wedding. If you have any friends who have had a similar decision to make, ask them about how they ultimately came to their final decision.
Consider Your Teeth
Do you have an overbite, gaps in your teeth or any other aspects you've been meaning to correct? Well, this might be the perfect opportunity to get them in shape. Aligning your teeth isn't just cosmetically desirable, it can also prevent oral problems in your future. Even if you can't set up an appointment with an orthodontist in time for your wedding, you should definitely keep it in mind for the immediate future.
Realize Your Options
You might not be thrilled by the idea of prominent metal fixtures on your teeth, but thankfully you have options. If you feel at all self-conscious about how this endeavor will make your teeth look, you should look into these. The clear design of Invisalign allows you to straighten your teeth without any else being any the wiser. If you choose to go the traditional route, you can rest assured that there is nothing for you to fear or be ashamed of.
The Long-Term Benefits
Getting married is the start of a new, unforgettable chapter in your life. With straighter teeth, you'll be able to start this stage not only looking great but feeling great as well. If you are able to time it so that your teeth are in perfect symmetry on your wedding day, then it will make a magical day all the magical. Plus, you'll be relieved and grateful to have your teeth corrected.
Call Tisseront Orthodontics Today
At Tisseront Orthodontics in Reston, Va., you can receive a free consultation with Dr. Stephan Tisseront to learn more about your orthodontic options. Our orthodontist takes care of children, teenagers, and adults at our top-of-the-line office, and he offers these treatments:
• Lingual braces – worn on the backs of teeth
• Invisalign – aligners for teenagers or adults
• Ceramic orthodontia – made with clear wires and color-matching brackets
It is also possible to reduce your orthodontic treatment time by using a small device from AcceleDent Aura that helps to accelerate the movement of your teeth into the correct positions.
Call us today at 703-773-1200 to schedule an examination with Dr. Tisseront in our state-of-the-art orthodontic facility.
Should I Get Braces Before My Wedding?
Tisseront Orthodontics
11720 Plaza America Drive, Ste. 110 Reston VA 20190-4762
Phone: (703)773-1200