Last Updated on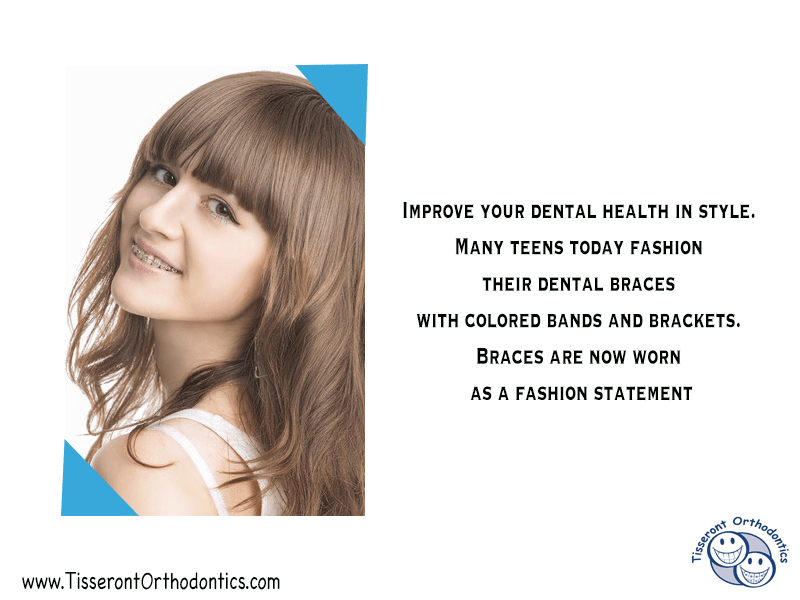 Improve your dental health in style. Many teens today fashion their dental braces with colored bands and brackets. Braces are now worn as a fashion statement
Getting braces may not be the most appealing prospect for teens. There is enough to deal with at an age when self-consciousness rules the day. When you add the awkward feeling of a mouthful of metal and trying to figure out a new way to smile, it is understandable that teens are not enthusiastic about the idea. However, now your orthodontist offers trendy and colorful elastic bands and brackets. We are even finding teens leaving the office disappointed when they learn they don't need them.
Go Team!
Color braces are no less effective than the traditional train tracks, as they have been called. Patients choose the colors they like, whether that is in keeping with a style of fashion, a season of the year or the team colors. Go Team! The visible rubber bands that stretch over the brackets also come in a variety of colors. We have seen how using colorful bands and brackets patients engage more and help to speed their treatment by making sure to wear them as needed. The bands can be changed for other colors upon each visit. Many patients enjoy the opportunity for self-expression.
Perhaps Invisible is More to Your Liking
Your orthodontist also offers Invisalign orthodontic treatment using a series of custom-fitted plastic aligner trays. For less complex malocclusions, these invisible aligners provide more comfortable incremental movement to straighten the teeth. Adults and older adolescent patients who may have aesthetic concerns most often prefer Invisalign.
Treatment averages from 9 to 15 months as follows:
Invisalign aligners are worn at all times, except when eating or brushing
Patients progress to the next aligner about every two weeks until the series is completed
Aligners worn during treatment are between 18 to 30, on average
Whether a referral or you want to explore the benefits of braces, contact our office today to make an appointment for your complimentary consultation. We welcome the opportunity of providing quality orthodontics for the whole family.