ORTHODONTIC RETAINERS IN RESTON VA
There is nothing more beautiful about the face and nothing more unique to one's own character and personality than a winning smile. Sometimes just a little bit of intervention can go a long way to improving one's appearance and smile. Feel free to explore all your options and to learn about the different options that are available to you. Please make use of this page to learn about the importance of retention and wearing your retainers after you have finished your orthodontic treatment. You've invested in a brand-new smile! Now you need to protect your investment and insure that smile for years to come!
Part of a successful orthodontic treatment is one that includes a retention plan as well. Retention is a way of ensuring that your new and improved teeth will be set for life. Because the teeth did not grow naturally that way, it takes time for the bone tissue to rearrange themselves into their new position. If not, they are liable to eventually set back into their original position of growth, especially as they get older. An orthodontic retainer often follows the removal of braces and its purpose is to help hold the teeth in their new and fixed positions.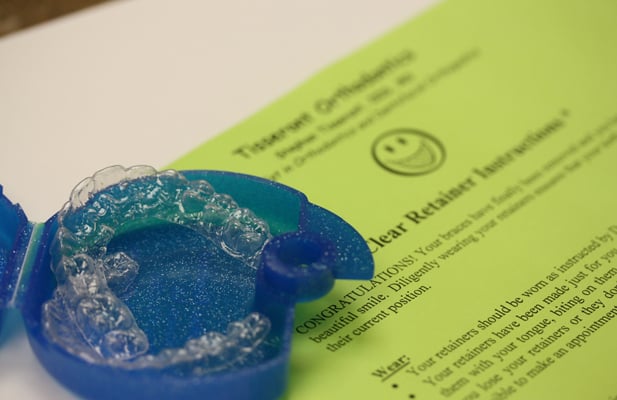 Orthodontic retainers are usually removable and are custom-made for every patient. They are generally either made of clear plastic or appear as a single wire across the set of teeth.
The best advice that can be given to all patients who have retainers is to wear them! Too many patients go through the long ordeal of braces only to lose much of what they gained because they did not wear their retainers responsibly. Every patient will receive his own orthodontic plan and will be told for how long he/she should wear the retainers. Normally worn only at night, plan to wear your retainers for as long as you would like to keep your smile straight!  Following Dr. Tisseront's instructions is crucial for keeping your teeth straight for the rest of your life.
RETAINER CARE
Please, take good care of your retainers. They should be removed before eating. There are special tablets available with which to clean your clear retainers. During the times they are not being worn, store them in the containers given to you for that purpose. Leaving them around or wrapping them in tissues and napkins is a sure way to lose them. In the event that they are lost, or if they crack, it is crucial to call our office as immediately as possible- in some instances, we can use your original mold that we have sent you home with (keep them in a safe place!) to fabricate new retainers so your teeth do not move from their position. Other times, we may need to make a new impression. Please call us immediately and we can help.
At Tisseront Orthodontics, we can offer you and your family many different types of orthodontic treatments and all of our comprehensive Orthodontic treatments will come with retainers. Feel free to reach out to your local Reston orthodontist, Dr. Tisseront, and contact us for your free consultation. Everything we do is designed to give you and your family the highest quality care with ritz-quality customer service in a fun environment. The DM App is just one of the many examples of how we are constantly improving our services to you. We can't wait to show you the Tisseront Orthodontics difference!
PERMANENT OR BONDED RETAINERS
A permanent retainer (also called a bonded retainer or a fixed retainer) is a simple metal bar or wire affixed to the back of your teeth that holds them in place, keeping them from shifting (or from returning to their pre-braces alignment). These are most often used after braces are removed, when you have a perfectly aligned smile.