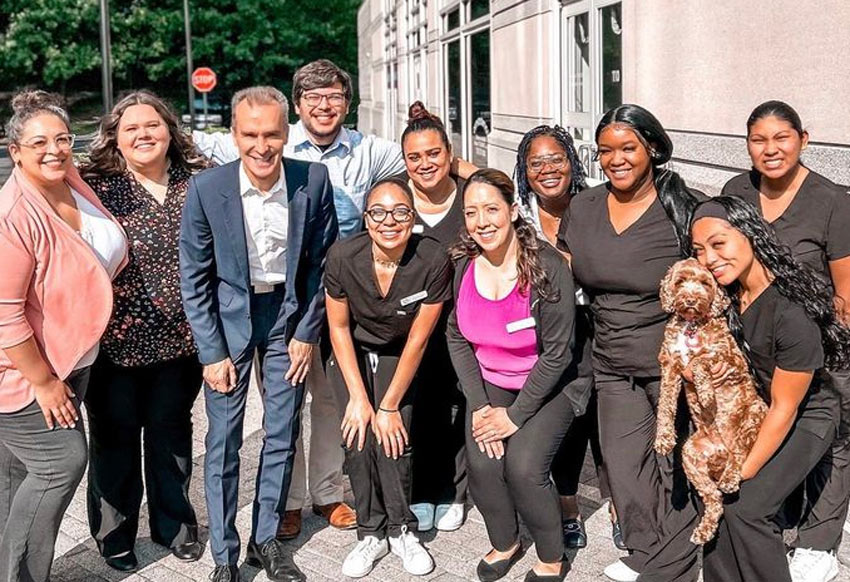 MEET THE TEAM AT TISSERONT ORTHODONTICS!
When you walk in the door of Tisseront Orthodontics in Reston, you are guaranteed a warm welcome and a big smile as we aim to make all our patients feel right at home right from the start!
We put your needs first to achieve an efficient and comprehensive treatment plan. All our talented team is fully trained and skilled. We strive to provide an energetic and fun-loving service to each and every patient.
Each member of our treatment team is a Certified Orthodontic Assistant, and our office staff has many years of combined experience in treating patients with the highest level of care and professionalism.
We strive to stay abreast of the very latest in technology and advances by regularly attending seminars and further education courses, including courses on lingual braces and invisible braces.
Our team is here to help you not only get a beautiful and confident smile but also to ensure you have a exceptional orthodontic experience.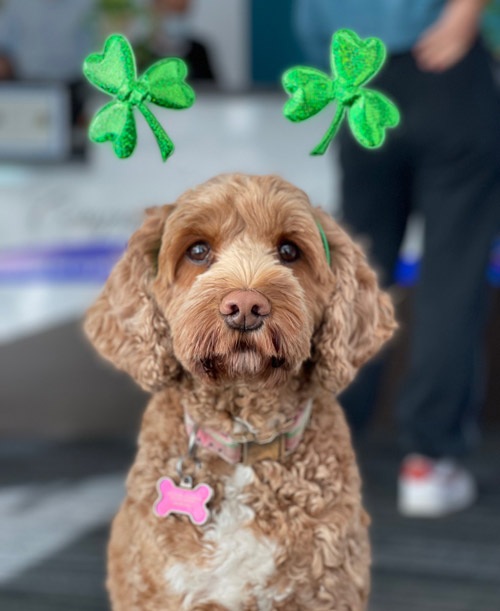 Brooklyn – Office Support 🙂
My name is Brooklyn! I am a mini Australian Labradoodle and I LOVE belly rubs.  Your smiling faces make me so happy and I just love meeting each and every one of you when you come to visit!
I have the BEST job at the office! Shhhh…don't tell my other teammates! My dad, Dr. Tisseront, let's me come to the office with him every day to hang out with all of you! Some of my favorite things to do are to greet you at the front door with a wag of my tail and a sloppy kiss if I'm feeling extra friendly, taking naps in your laps while you get braces adjusted, showing off my tricks for treats and of course getting all of the belly rubs from you!
When I'm not at the office hanging out with you I like to go on hikes at Great Falls, swim in dads pool and chase squirrels in my front yard.
Don't forget to say HI at your next visit with us!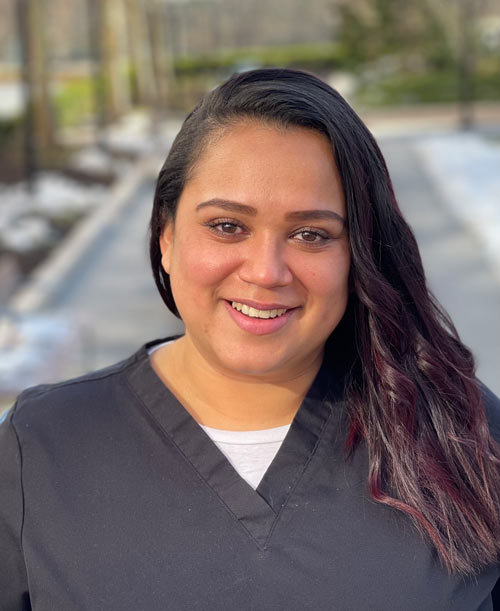 Griselda – Clinical Director
As the Clinical Director to Dr. Tisseront, I help our patients achieve the smile of their dreams. I love everything about my job! The professionalism of our office, getting to know our patients and helping them every day. Not many people can say that they enjoy coming to work every day, especially after 13 years, but I still do!
Dr. Tisseront is a well-respected orthodontist who gives his patients the best possible outcome in their orthodontic care. He always strives to give his very best to all our patients.
When I am not working, I love to spend time with my family. We like to attend our local church. I also really enjoy watching documentaries and reading biographies.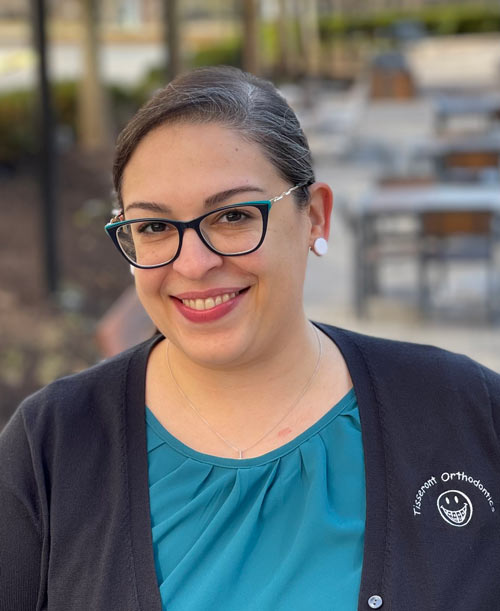 Tanasha – Office Manager
Hey there! I'm Tanasha! I am the Office Manager here at Tisseront Orthodontics. Working with Dr. Tisseront and our amazing team is absolutely the best! We have such a fun and inviting environment where you will always hear laughter and feel the joy of our patients and team.
There is never a dull moment here and I can say I LOVE coming to work everyday! Dr. Tisseront is a  master of his craft and our patients adore him!
His smiles are one of a kind and a truly a work of art. I am still in awe of what he does, even after 10 years of being part of Team Awesome.
When I am not at work, you can find me lounging with my fiancé and our cat, Oliver, hanging out with my 14 nieces and nephews or watching New Girl on Netflix!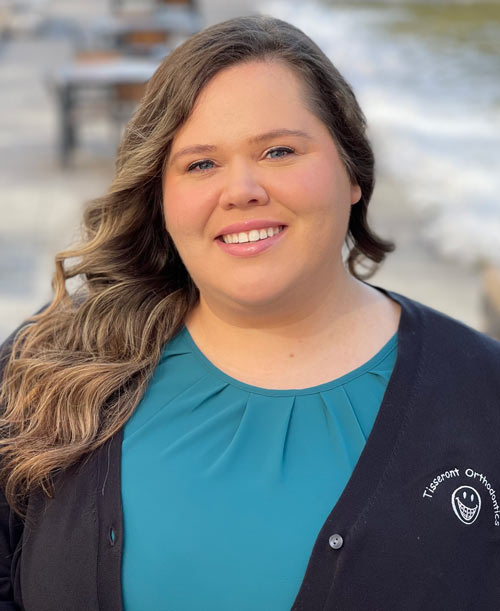 Chelsea  – New Patient Coordinator
WOW! That was my first impression of Dr. Tisseront, his office, and the exceptional group of people that are now my second family. I get the opportunity every single day to work alongside my best friends, meet the most fantastic patients, and learn from the most talented Orthodontist in the NOVA area. Working here does not feel like work at all!
You'll meet me at your first visit to the office as the Treatment Coordinator during your consultation. I work hand in hand with Dr. Tisseront to help you navigate getting started on your smile journey while getting to know you as you get to know and love us!
When I'm not at work hanging out with my pals, I enjoy bingeing on True Crime documentaries with my cat Sheamus. I'm obsessed with anything summer time, especially if the beach is involved. I also work with my birthday twin Jennifer here, so make sure you celebrate with the both of us during the month of July 🙂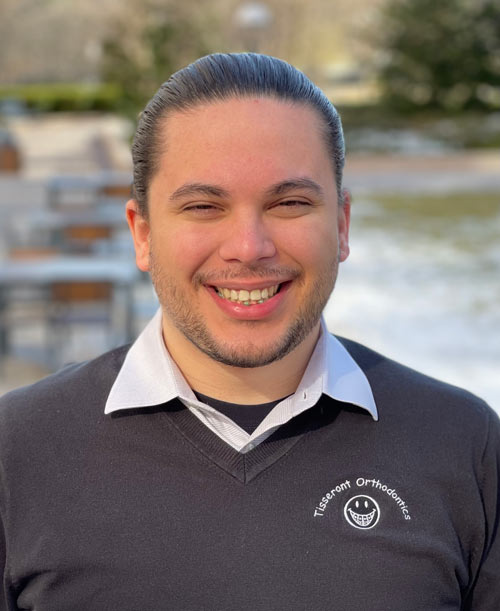 Legare – Scheduling Coordinator
Hello!  If you were wondering how to pronounce my name, it's "agree" with an "L" in front.
I take great pride in being one of the first people that you will interact with at Tisseront Orthodontics. If you ever strike up a conversation when we see you for an appointment, I love the outdoors (specifically beaches and mountains), video games, and music.
My favorite style of video game is the classic dungeon crawler and my favorite musical group is Pentatonix.  If this is your first time visiting our website, I can't wait to meet you and help you start your Orthodontic Journey with Dr. Tisseront.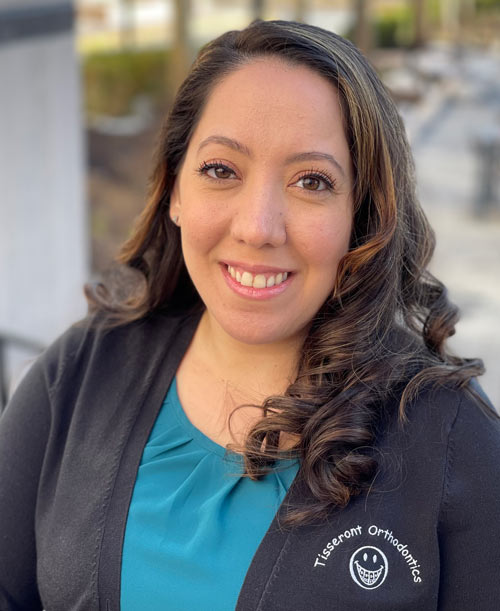 Jennifer – Financial Coordinator
Hi, my name is Jennifer! I am the financial and insurance coordinator here at Dr. Tisseront's office. I joined the team about a year ago and have thoroughly enjoyed my time here thus far. Dr. Tisseront and his excellent leadership skills have helped me grow quickly as part of this team.
I enjoy being able to assist you in arranging financial options that can allow you to achieve a beautiful smile you are looking for.
I also have the pleasure of coordinating your insurance benefits and truly enjoy helping you fully maximize your insurance benefits. I am incredibly grateful to work in a fun and caring environment where I learn something new every day.
Outside of work, my husband and I enjoy spending time outdoors, love being at the beach when we can, and making memories with our daughter. At times, my daughter and I love to bake during the weekend. My family is a big part of my life and I'm glad I get to have a second family here at Tisseront Orthodontics.
Jessica – HR Manager
Welcome to our office! I love showing families all of our fun things we do in the office and the results of our happy patients who have brand new smiles to show off. My favorite part about my job is interacting with patients and helping them on their way to a beautiful, new and healthy smile.
A smile is the most beautiful thing you put on each day and is your best accessory! Having a gorgeous smile gives you a higher self-esteem and confidence and I love that I get to help people achieve that every day. I've worked with Dr. Tisseront for over 13 years now. It truly is a gift to be able work with such a skilled orthodontist and see the amazing smiles he creates.
In my free time I enjoy spending time with my husband and our 5 gorgeous daughters.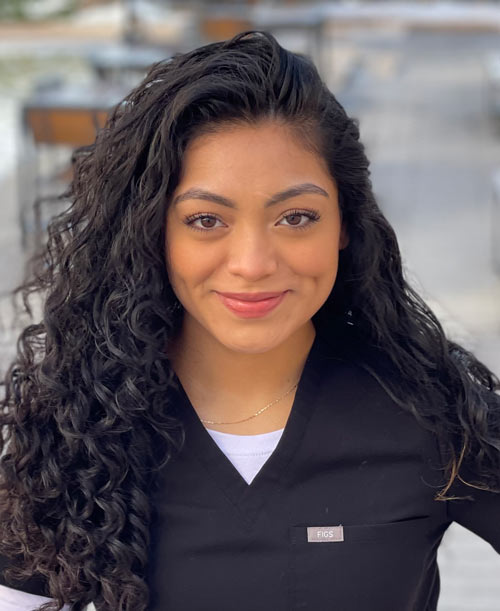 Rachel – Patient Manager
I am a clinical assistant here at Tisseront Orthodontics. Being part of the TO team has genuinely been an honor. The knowledge that I have inquired working along side Dr. Tisseront has made this a remarkable experience.
I get the pleasure of being a part of creating beautiful smiles  and it has created many wonderful memories with awesome patients like you! Not only do I absolutely love what I do but most of all I love seeing how much a perfected smile can impact your life in the best way possible!
Now about me! I am extremely motivated in our work environment but outside of the office I am putting work in else where. For the past couple months I have been dedicating time into my fitness journey. If it's not the gym, it's my dogs! I enjoy taking them on outdoor adventures.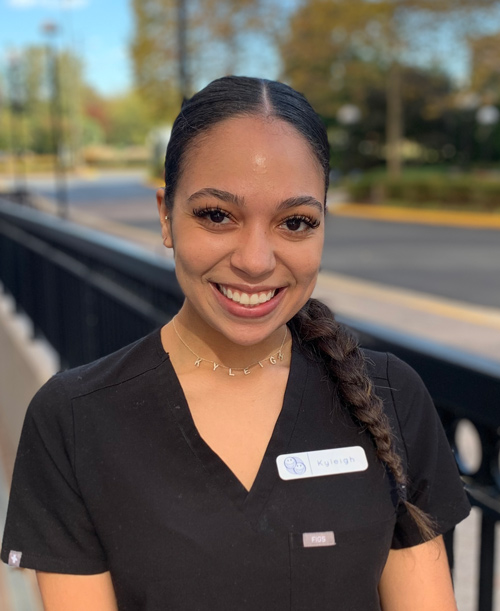 Kyleigh – Patient Manager
Hello! I'm Kyleigh and I am a clinical assistant here at Tisseront Orthodontics! I joined the team a little under two years ago and I have learned so much from Dr. Tisseront and everyone here at TO! I can say I really love what I do!
The thing I love he most about what I do do is that I get to work alongside one of the most talened, well respected orthodontists in the country and get to help our patients achieve the smile of their dreams! It is the most fulfilling feeling to see our patients see they have the most amazing smiles!
I can truly say that we have the best doctor and best team in our area! Now outside of work, I really love shopping, trying new food (self proclaimed foodie here), watching K-Dramas and I love to travel.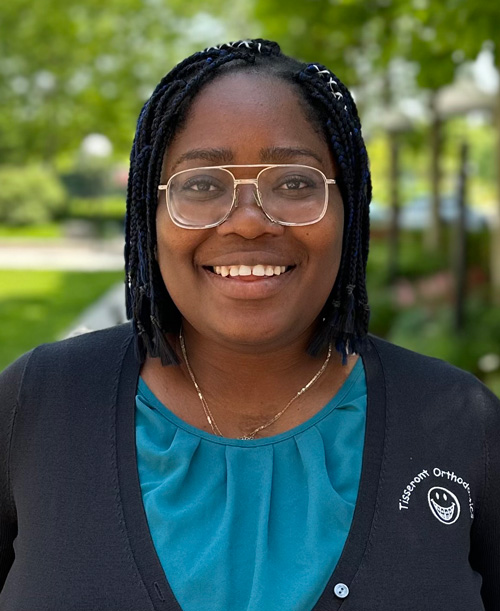 Rhodalyn – Scheduling Coordinator
Hello! My name is Rhodalyn! My favorite part of my job is being able to witness some truly amazing transformations and being able to be a part of each patients journey towards a brighter, happier smile!
When I am not at the office I am a lover of nature, art and all things in between. I will gladly debate the best anime or comics of all time or even the war of DC vs MARVEL (Marvel is the superior choice in every way). I am a curious person by nature and will try almost anything once, although I do draw the line with some foods. Can't wait to meet you all!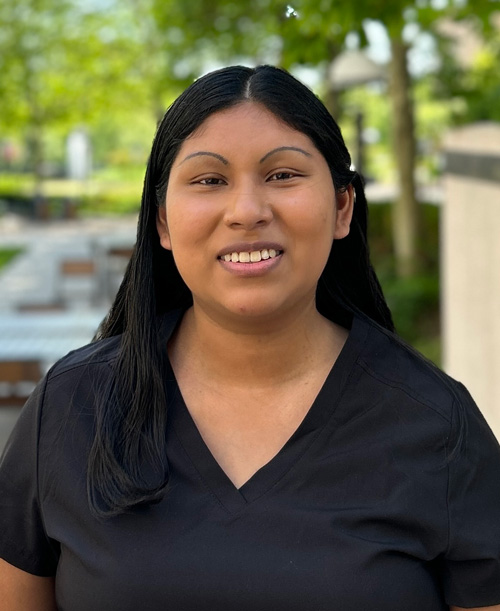 Annie – TC Assist/Sterilization Technician
Hi! My name is Annie and I have recently joined the team! I love being a part of a team that works together and gets along so well! My position at the office starts with welcoming new and returning patients to our office, taking pictures and x-rays of you for Dr. Tisseront to study and prepare the best treatment plan for YOU and ends with being sure the office is on top of all sterilization protocols.
Dr. Tisseront shows great leadership and patience which motivates and inspires me to continue to provide the best orthodontic care for our patients. In my spare time i enjoy kayaking, drawing and listening to alternative rock. I also LOVE to cook Korean food and learn new recipes. Overall, I am happy to assist our patients and teammates any way I can and will continue to do so.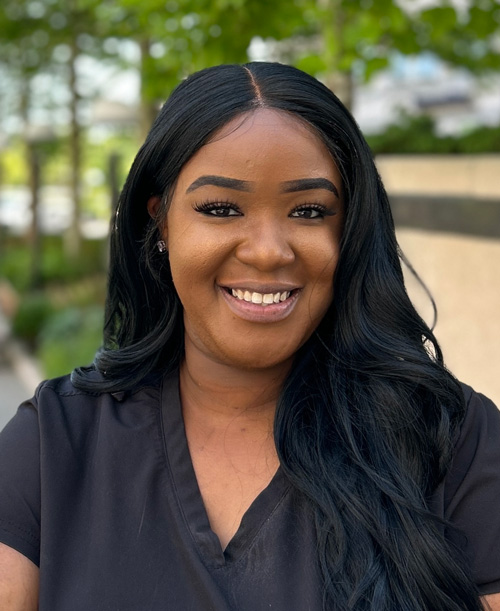 Ramatu – Patient Manager
Hi! I'm Ramatu! I must say, I was very much impressed with the environment and team Dr. Tisseront has gathered that I now call my second family. Everyday at work for me has been a new day to conquer it all and learn something new and exciting! I LOVE that I get to work hands on with Dr. Tisseront in the clinic to create perfect smiles. It's been an absolute pleasure seeing how improving someone's smile impacts their life!
When I am not at work, I am at home with my beautiful children and our dog, Cinnamon. I am a cake artist by night and MOMperneur by day! I love outdoor activities, being creative, sport with the kids, music and attending our local church. I look forward to working with you all in creating long lasting memories as you embark on your journey to a new smile!