MEET THE TEAM AT TISSERONT ORTHODONTICS!
When you walk in the door of Tisseront Orthodontics in Reston, you are guaranteed a warm welcome and a big smile as we aim to make all our patients feel right at home right from the start!
We put your needs first to achieve an efficient and comprehensive treatment plan. All our talented team is fully trained and skilled. We strive to provide an energetic and fun-loving service to each and every patient.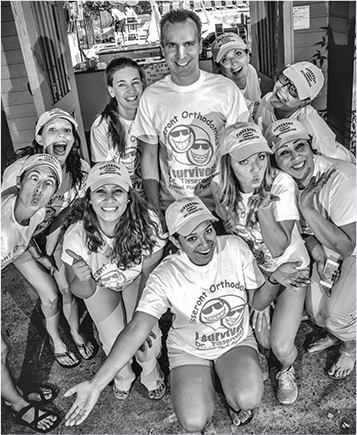 Each member of our treatment team is a Certified Orthodontic Assistant, and our office staff has many years of combined experience in treating patients with the highest level of care and professionalism.
We strive to stay abreast of the very latest in technology and advances by regularly attending seminars and further education courses, including courses on lingual braces and invisible braces.
Our team is here to help you not only get a beautiful and confident smile but also to ensure you have a exceptional orthodontic experience.
Alexis
I'll start by saying I LOVE what I do! Having been working in orthodontics for close to 8 years has given me an appreciation for the art that creating beautiful smiles is. I've been a member of Tisseront Orthodontics since April 2010 and throughout these years I've had the advantage to learn new and innovative techniques such as using digital scanners for impression taking and working with Lingual braces.
I am a mother of a beautiful little girl and have been married for over six years, I've been raised with the idea that family always comes first and I am very happy to work in a practice whose values are very similar to mine. At Tisseront Orthodontics we treat our patients and their families like they were ours, and the team itself is one big family. I look forward to creating even more beautiful smiles for years to come along with my T.O. family.
Tanasha
Working with Dr. Tisseront and the team is the best! We have such a fun and inviting environment where you will always hear laughter. There is never a dull moment at Tisseront Orthodontics and I can say I LOVE coming to work everyday! Dr. Tisseront is a true master at his craft and our patients adore him! Seeing the joy on our patients faces when they see their new smiles is my favorite part of being Clinical Director, even after 5 years!
In my free time I love to watch silly movies, hangout with my friends & family and shopping online for things to add to my penguin collection!
Jessica
Welcome to our office. I greet all new patients to our office and take care of them so they feel right at home. I also help to coordinate appointments between our office and any other specialist for you. I love showing families all of our fun things we do in the office and the results of our happy patients who have brand new smiles to show off.
My favorite part about my job is interacting with patients and helping them on their way to a beautiful, new and healthy smile. A smile is the most beautiful thing you put on each day and is your best accessory! Having a gorgeous smile gives you a higher self-esteem and confidence and I love that I get to help people achieve that every day. I've worked with Dr. Tisseront for over 7 years now. It truly is a gift to be able work with such a skilled orthodontist and see the amazing smiles he creates. In my free time I enjoy spending time with my husband and our 5 gorgeous daughters.
Griselda
As a clinical assistant to Dr. Tisseront, I help our patients achieve their beautiful smiles. I love everything about my job, the professionalism of our office, and getting to know our patients and helping them every day. Not many people can say that they enjoy coming to work every day, especially after 7 years, but I still do!
Dr. Tisseront is a well-respected orthodontist who gives his patients the best possible outcome in their orthodontic care. He always strives to give his very best to all our patients. When I am not working I love to spend time with my family. We like to attend our local church and I also love going shopping.