LAST UPDATED: MAY 29, 2018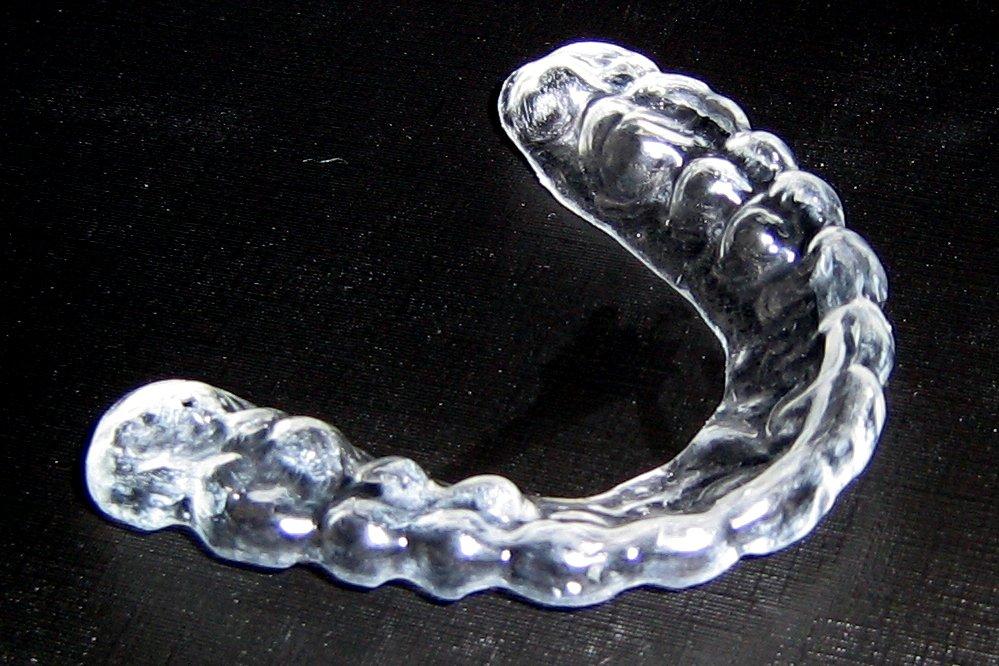 What Are the Discomforts Associated with Invisalign?
In the past, orthodontic patients were limited to metal braces that required mounting and constant adjustments throughout their use. The metal often rubbed against checks and lips, which caused frustrating issues among teenage and adult patients. Today's orthodontic world consists of another tooth-alignment choice called Invisalign. This teeth-straightening tool is basically a customized, plastic insert that performs the same work as traditional, metal braces. With its invisible appearance, the Invisalign products are quickly becoming favorites among patients of every age. However, it's still important to understand the details surrounding the use of these orthodontic tools, including the inherent discomforts.
FAQ
What are Temporary Speech Issues?
When your orthodontist orders these devices for your mouth, they'll cover both the upper and lower teeth. Depending on the treatment type, the devices will normally extend onto the palate as well. When you first wear these straightening tools, your mouth naturally feels like it's full. At first, speaking will sound and feel different. You may even notice slurred speech or a lisp. Patients may be concerned about this issue, but it will pass. You simply need to practice speaking at home so that you can have experience with the device in your mouth. Over time, the speech issue will smooth out so that you sound normal once again.
Is There Pain When I First Start Wearing Aligners?
There will be times when you pull the device in and out of your mouth. Traditional braces don't offer this luxury, and many patients appreciate the short break from the aligners in the first place. However, there may be some discomfort when the aligners are being pulled or positioned in the mouth. This discomfort will also pass because the mouth and teeth are being moved into position as the aligner is added to the oral cavity. The teeth and gums are relatively malleable so the discomfort is only a notification that the aligner is performing its job.
Will I Feel Any Pressure With Braces?
After inserting the aligner into your mouth, you might have noticeable pressure across the entire oral cavity. Patients should still view this discomfort as a sign that teeth are moving properly into position. Orthodontic treatments depend on controlled pressure to move everything into alignment over time. Ideally, schedule an initial appointment late in the day to have the aligner installed. With bedtime soon afterward, you won't notice the pressure as you sleep. In the morning, many hours will have passed so that your mouth feels less irritated compared to its initial encounter with the device.
Will the Aligners Irritate My Gums?
Your gums, cheeks and palate may be irritated by the device's edges. In many cases, this irritation will pass as the teeth are moved into the proper positions. If the pain persists, however, you can work with your orthodontic professional in order to fix the issue. The device's edges may need to be trimmed or altered. It's important for the professional to look at the aligner so that its function isn't compromised by improper trimming or cuts to the edges. With careful adjustments and consultations with your doctor, the aligner should feel comfortable for most of the time.
Will I Have Eating and Drinking Problems With Invisalign?
Patients may try to eat or drink with their aligners installed, but most professionals will suggest removal instead. Hard, food items can easily crack or warp the devices so it's a smart idea to simply remove them during meals. If your doctor insists on keeping the aligners in, focus on soft foods for the majority of the day. Yogurt, soup and other foods will simply slide past the aligners. Keep the devices in their respective containers so that they aren't misplaced otherwise.
Will Invisalign Irritate My Tongue?
You never realize how much your tongue moves until it becomes irritated. It's possible for the base or tip of the tongue to feel a burning sensation. This discomfort is normally isolated to the first few days of wearing the device. Tell your doctor about the discomfort so that he or she can verify the location of any device malfunctions. In most cases, the tongue simply needs to acclimate to the new item in the mouth. The discomfort will slowly fade away.
What Are The Keys to Reducing Discomforts?
There is a secret weapon to fighting off aligner discomfort. The answer is simply to wear the aligner as often as possible. When you wear it, the teeth move into position and remain fixed in place. Removing the device outright will only prolong the treatment and make it more painful as a result. If you plan on playing sports, protect your mouth and aligner from any impacts. Warping the device will also increase discomfort over time.
When Should I Communicate With My Orthodontist?
Every patient will have a slightly different appointment schedule. In many cases, a monthly visit will be suggested so that the aligner and straightening process can be watched at close range. Use these appointments to speak to your doctor about any concerns. Discomfort should be temporary in most cases. Medical professionals might suggest over-the-counter pain medications to manage those temporary bouts with pain. Your doctor will keep you updated about time frames and when the aligners are finished with their work. When you wear them as instructed, the treatment program can be as short as possible.
Schedule an Appointment with Tisseront Orthodontics
At Tisseront Orthodontics in Reston, Va., you can receive a free consultation with Dr. Stephan Tisseront to learn more about your orthodontic options. Our orthodontist takes care of children, teenagers and adults at our top-of-the-line office, and he offers these treatments:
• Lingual braces – worn on the backs of teeth
• Invisalign – aligners for teenagers or adults
• Ceramic orthodontia – made with clear wires and color-matching brackets
It is also possible to reduce your orthodontic treatment time by using a small device from AcceleDent Aura that helps to accelerate the movement of your teeth into the correct positions.
Call us today at 703-773-1200 to schedule an examination with Dr. Tisseront in our state-of-the-art orthodontic facility.
Tisseront Orthodontics
11720 Plaza America Drive, Ste. 110 Reston VA 20190-4762
Phone: (703)773-1200