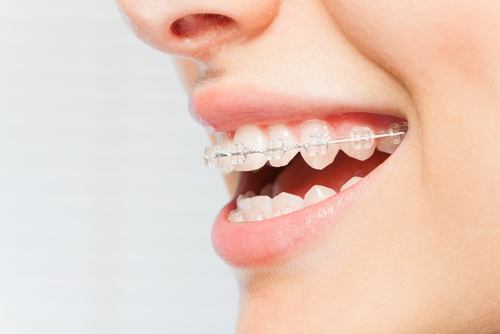 When most people think of braces, the traditional metal option generally comes to mind. However, there are many different types of braces available to fit the needs of each individual patient. One of these options is ceramic braces. But what are they, and what are the benefits of choosing ceramic braces? We're here to explain!
How are ceramic braces different from other options?
Ceramic braces are placed with the same goal as other types of braces: to straighten teeth, correct bite problems and to create a beautiful, healthy smile. However, unlike traditional metal braces, ceramic braces are made of clear materials, which makes them less visible. The construction of ceramic braces is very similar to metal braces, including brackets attached to each tooth connected with wires and rubber bands.
What are the benefits of ceramic braces?
The biggest benefit of ceramic braces for most patients is that they are less noticeable than metal braces due to the clear ceramic that constructs them. However, there are other practical benefits to ceramic braces, as well! Ceramic braces don't have limitations as certain options like Invisalign do, making them an excellent choice for patients who have cosmetic concerns but don't want to compromise on the quality of treatment.
Ceramic braces are a great option for many patients, but they are not the perfect fit for every patient. Talk to your orthodontist to find out if ceramic braces would be the right choice for you! Tisseront Orthodontics is here to help with all of your braces-related concerns. Contact us to request an appointment today!