Last Updated on February 13, 2017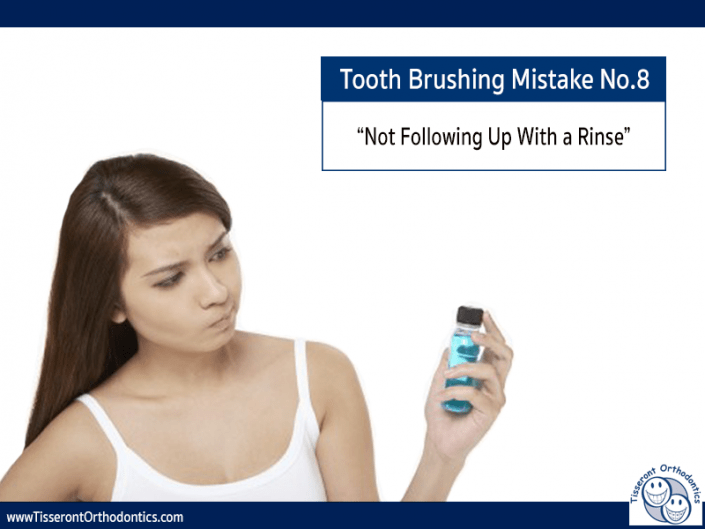 Tooth brushing Mistake No.8: "Not Following Up With a Rinse"
Many people see mouthwash as a quick breath freshener, and some people may even use it as a substitute for brushing. This is never a good idea because brushing is important to clean your teeth. Mouthwash can be used in between brushings, and it can and should be used after brushing and flossing. If you are tempted to skip rinsing after brushing, read on to see why you should take the time for a mouth rinse.
Food Particles
Brushing and flossing can remove food particles and plaque when both are done correctly, but the truth is that sometimes being in a hurry can prevent you from brushing and flossing properly. Following up with mouthwash can wash away food particles that may be left behind. Kids and adults who wear braces can benefit from mouthwash because it can loosen and wash away food particles that get caught between the wires and brackets. If you have Invisalign aligners, a retainer or if you wear removable dentures or partials, mouthwash can give your mouth a thoroughly clean feeling before you resume wearing your removable appliances.
Some mouth rinses contain fluoride and can be used in addition to fluoride toothpaste to provide extra protection for your tooth enamel. Mouthwash can also kill bacteria and reduce plaque and tartar. You should read mouthwash and mouth rinse labels carefully to learn what they contain and what oral hygiene benefits they have, such as killing bacteria or removing plaque.
Make an Appointment Today
In order to have the perfect teeth, it is important to see a local orthodontist. There is none quite as good as Dr. Tisseront. When you visit Dr. Tisseront, you will learn more about their dental services such as what it takes to put in all kinds of braces like Invisalign. That's why the next time you need Invisalign or any other type of braces placed on your teeth, give us a call.
Orthodontist in Reston, VA offering caring service for both Children and Adults.
Specializing in Aesthetic Orthodontics (Lingual braces, Invisalign and Clear braces).
11720 Plaza America Dr, Ste 110 Reston, Virginia 20190
Phone: (703) 773-1200