Last Updated on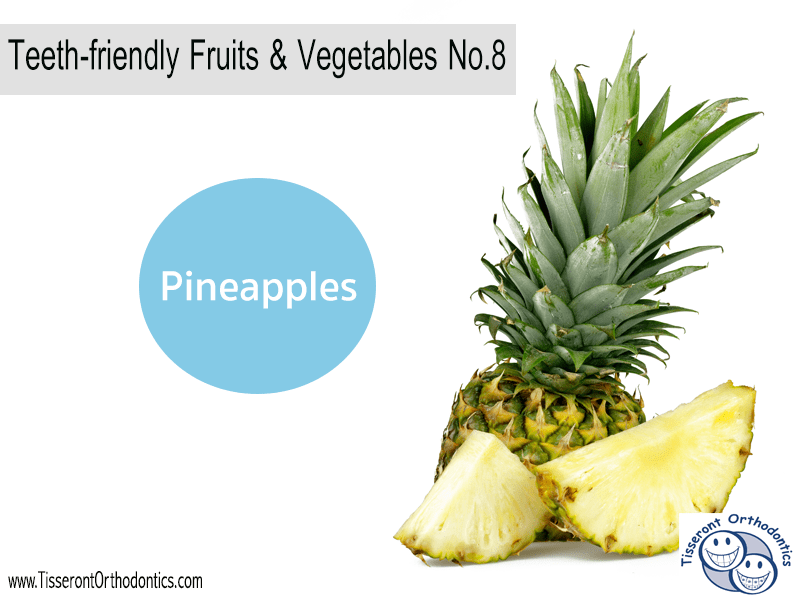 Teeth-friendly Fruits & Vegetables No. 8: Pineapples
It is important to consume a healthy diet while undergoing orthodontic treatment in order to keep your teeth and gums in the best condition. Your orthodontist will give you a list of foods that you shouldn't eat while wearing braces, but there are still numerous tasty fruits that you can consume. Pineapple is a delicious fruit that is available in most grocery stores on a year-round basis. You can find fresh pineapples in the produce aisle, and this fruit is also available in the canned fruit aisle in chunk or sliced varieties.
Pineapple Offers Numerous Nutrients
Pineapple has a natural sweet flavor, and it also contains several nutrients such as:
• Vitamin C
• Manganese
• Vitamin B6
• Thiamine
• Iron
Pineapple is delicious on its own, but it is also used in jams, fruit salad or on ice cream. The juice from a pineapple is delicious to drink at breakfast, and it is also added to other beverages. You can use pineapple to garnish a cake or ham during the holidays, and it is easy to grill pineapple rings in the summer at a barbecue dinner. Some restaurants offer pineapple chunks as an additional topping on pizza. Pineapple is a versatile fruit that you can enjoy anytime of the year at dinner, lunch or breakfast.
Schedule an Appointment Today
If you live in Reston, Va., you can schedule an appointment with Tisseront Orthodontics to learn more about the different treatments that can repair your malocclusions. Dr. Stephen Tisseront offers a variety of orthodontic treatments, including:
• Lingual braces for adults, teenagers and children
• Invisalign aligners for teenagers and adults
• Harmony braces for children, teenagers and adults
To have the best fitting molds for your Invisalign aligners, our orthodontist uses the iTero system, and you can also request the Acceledent Aura system to reduce your treatment time. Contact Tisseront Orthodontics today for a complimentary consultation with Dr. Stephan Tisseront