Last Updated on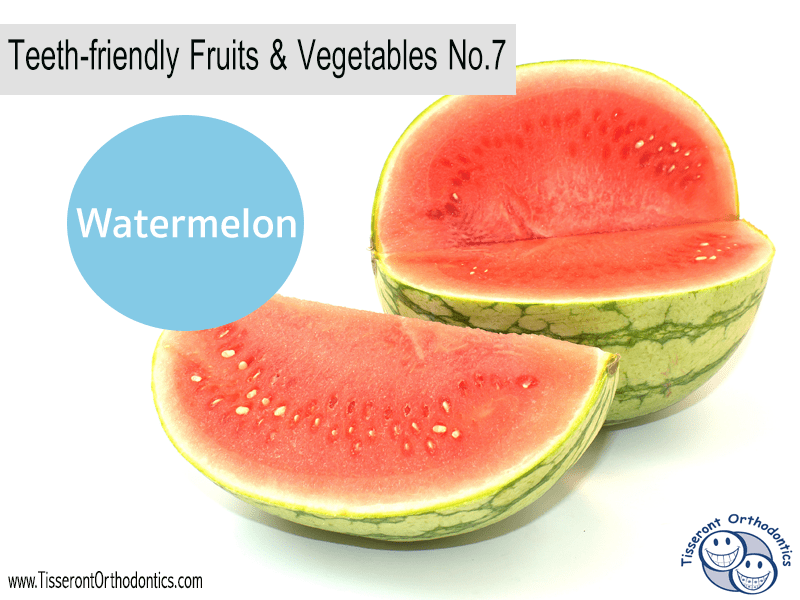 Teeth-friendly Fruits & Vegetables No. 7: Watermelon
After you begin to wear braces, your orthodontist will give you a list of foods that you can't eat to avoid damaging your wires or brackets. Fortunately, you can still consume numerous vegetables and fruit in order to get enough nutrients to remain healthy. One of the tastiest fruits to eat is watermelon, and it contains several vitamins and minerals, including:
• Vitamin C
• Manganese
• Magnesium
• Calcium
Watermelon is a large berry that has a hard outer rind, and you can buy varieties that have red, yellow or orange flesh. The most common type of watermelon has seeds, but there are also seedless watermelons that make it easier to use this fruit in tasty recipes. On a hot day, watermelon is an excellent fruit to eat because it contains a lot of water to keep you hydrated.
How to Prepare Watermelon
The most common way to eat watermelon is to cut a slice off of the large berry, but you can also use a melon baller to create an attractive dessert with round portions of watermelon. In addition, the juice from a watermelon can add flavor to beverages or meat marinades. In the summer, you can grill slices of watermelon over hot coals to give the fruit an interesting flavor.
Schedule an Appointment with Tisseront Orthodontics
At Tisseront Orthodontics in Reston, Va., you can receive a free consultation with Dr. Stephan Tisseront to learn more about your orthodontic options. Our orthodontist takes care of children, teenagers and adults at our top-of-the-line office, and he offers these treatments:
Lingual braces – worn on the backs of teeth
Invisalign – aligners for teenagers or adults
Ceramic orthodontia – made with clear wires and color-matching brackets
It is also possible to reduce your orthodontic treatment time by using a small device from AcceleDent Aura that helps to accelerate the movement of your teeth into the correct positions.
Call us today at 703-773-1200 to schedule an examination with Dr. Tisseront in our state-of-the-art orthodontic facility.
Tisseront Orthodontics
11720 Plaza America Drive, Ste. 110 Reston VA 20190-4762
Phone: (703)773-1200Teeth-friendly Fruits & Vegetables No. 7: Watermelon