Last Updated on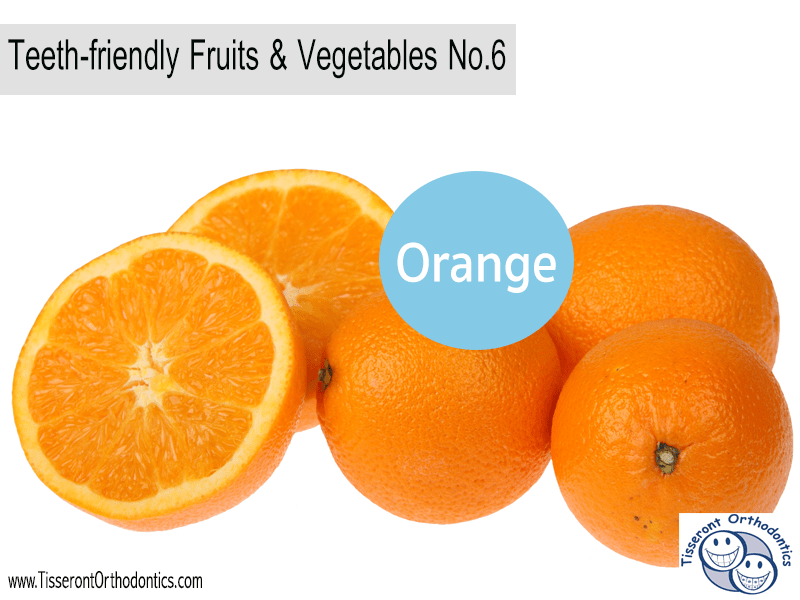 Teeth-friendly Fruits & Vegetables No. 6: Orange
After you begin orthodontic treatment, it is vital to consume nutritious foods rather than junk food. Your orthodontist will recommend eating a lot of fresh fruit and vegetables, but you must use caution while chewing certain foods to avoid damaging your braces or aligners.
Oranges Contain Vitamins and Minerals
Oranges provide minerals and vitamins such as:
Vitamin C
Thiamine
Calcium
Vitamin A
An orange is easy to carry in your lunch box to work or school, but you must avoid chewing on the peeling or tough fibers of this fruit. If you wear aligners, then you can remove the devices while you eat pieces of an orange. Consuming an orange is more difficult when you wear braces because the fibers can get stuck underneath your wires, but you can squeeze the fruit for its juice instead.
Use Oranges In Your Favorite Recipes
It is possible to add pieces of an orange or orange juice to an assortment of recipes, including:
• Baked goods
• Chicken
• Brown rice
• Smoothies
• Stir-fry dishes
• Lettuce salads
Eating a healthier diet while undergoing orthodontic treatment can help your bones and teeth to withstand the pressure from Invisalign aligners or braces.
Schedule an Appointment with Tisseront Orthodontics
At Tisseront Orthodontics in Reston, Va., you can receive a free consultation with Dr. Stephan Tisseront to learn more about your orthodontic options. Our orthodontist takes care of children, teenagers and adults at our top-of-the-line office, and he offers these treatments:
• Lingual braces – worn on the backs of teeth
• Invisalign – aligners for teenagers or adults
• Ceramic orthodontia – made with clear wires and color-matching brackets
It is also possible to reduce your orthodontic treatment time by using a small device from AcceleDent Aura that helps to accelerate the movement of your teeth into the correct positions.
Call us today at 703-773-1200 to schedule an examination with Dr. Tisseront in our state-of-the-art orthodontic facility.
Tisseront Orthodontics
11720 Plaza America Drive, Ste. 110 Reston VA 20190-4762
Phone: (703)773-1200
Teeth-friendly Fruits & Vegetables No. 6: Oranges