Last Updated on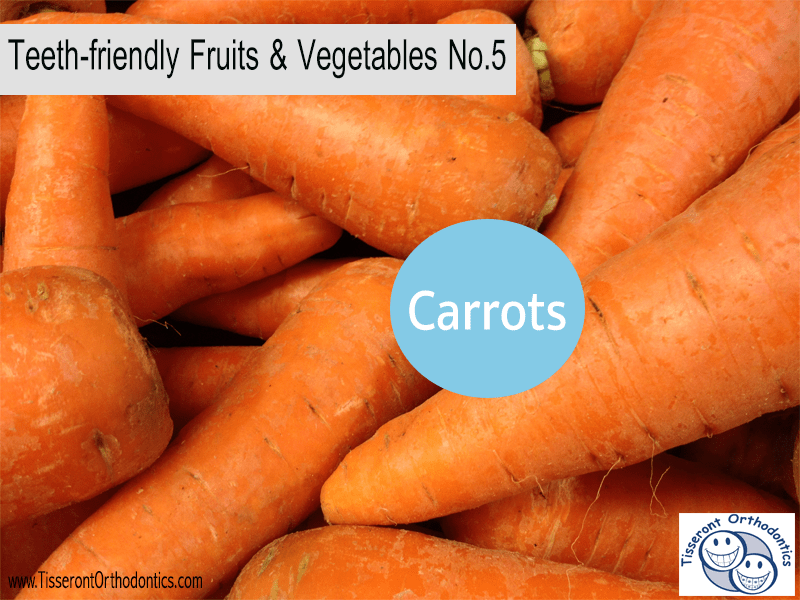 Teeth-friendly Fruits & Vegetables No. 5: Carrots
When you are undergoing orthodontic treatment, it is vital to continue consuming vegetables. You should not try to eat hard or crunchy foods that can break the wires of your braces, but you can cook vegetables until the items are soft and easy to chew. Carrots are a tasty vegetable that contain numerous nutrients.
Carrots Provide Numerous Health Benefits
• Vitamin C
• Manganese
• Vitamin K
• Phosphorus
• Vitamin E
• Zinc
• Vitamin A
All of these vitamins and minerals are necessary to keep your teeth strong, rebuild your bone tissue and protect your immune system.
Cooked Carrots Are Soft and Easy to Eat
Whole fresh or baby carrots are too difficult for you to chew, but you can boil this vegetable until it is soft before adding butter or parsley. You can also add thin slices or chunks of carrots to soups and casseroles. If you have a vegetable grater, then it is possible to create tiny slivers of fresh carrot to put in lettuce salads or other recipes. When you have tiny pieces of raw carrots in a salad, make sure to chew it carefully and slowly to protect the wires and brackets of your braces. Fortunately, if you wear Invisalign aligners, then you can remove the devices while you are chewing fresh or cooked carrots.
Schedule an Appointment with Tisseront Orthodontics
At Tisseront Orthodontics in Reston, Va., you can receive a free consultation with Dr. Stephan Tisseront to learn more about your orthodontic options. Our orthodontist takes care of children, teenagers and adults at our top-of-the-line office, and he offers these treatments:
• Lingual braces – worn on the backs of teeth
• Invisalign – aligners for teenagers or adults
• Ceramic orthodontia – made with clear wires and color-matching brackets
It is also possible to reduce your orthodontic treatment time by using a small device from AcceleDent Aura that helps to accelerate the movement of your teeth into the correct positions.
Call us today at 703-773-1200 to schedule an examination with Dr. Tisseront in our state-of-the-art orthodontic facility.
Tisseront Orthodontics
11720 Plaza America Drive, Ste. 110 Reston VA 20190-4762
Phone: (703)773-1200
Teeth-friendly Fruits & Vegetables No. 5: Carrots