Last Updated on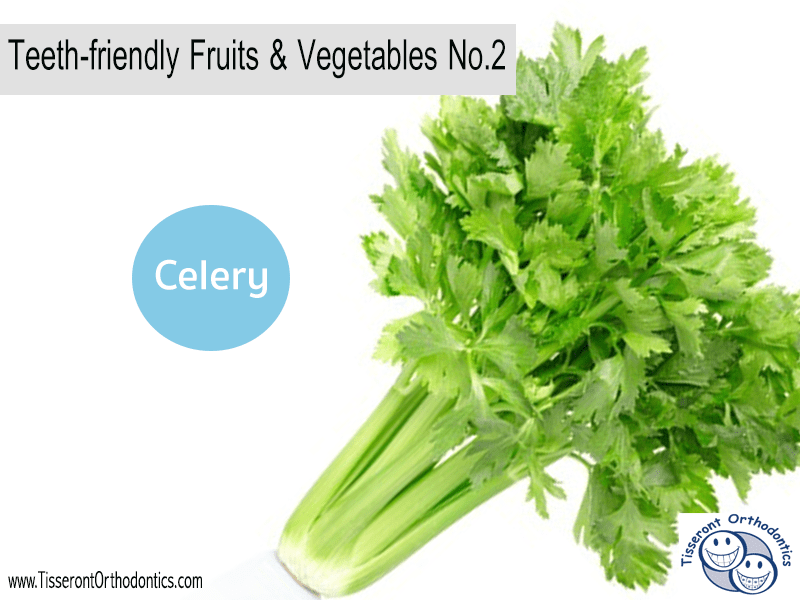 Teeth-friendly Fruits & Vegetables No. 2: Celery
Looking for a tooth-friendly snack? One of the best foods for your smile is celery. What makes it such a good choice?
Hard and Crunchy
This might not sound particularly appealing, but if you've bit into celery, you know exactly how hard and crisp it is. Biting into it naturally removes some of the plaque from your teeth – its natural roughness acts like an edible toothbrush. Just make sure to remove your invisalign, first.
Adding peanut butter or cream cheese may may it easier to eat, but it doesn't help your oral health. So, if you're using it as an on-the-go way to clean your teeth after lunch, have one plain.
No Sugar
Processed food is loaded with carbs and sugar that generate bacteria that harm our teeth, often leading to cavities. Even fruits, like apples contain sugar. Although the sugar is natural, it can still cause tooth decay. For more information, talk to your orthodontist.
On the contrary, celery has no sugar. Instead, it's rich with fiber, vitamin C and potassium. This natural food makes you less hungry for foods heavy with sugars that your body can't process as easily. Bonus: The vitamin C helps fight inflammation in your gums, especially helpful for brushing around braces.
Reduces Bad Breath
If you suffer from bad breath, or halitosis, celery can help. Just like the rough fibers clean your teeth, they also scrub your tongue, removing the bacteria and helping reduce the agents that cause bad breath. If you have braces, consider chopping them up so you don't need to worry about getting the pieces stuck around the wires, but can still see the benefits.
Schedule an Appointment with Tisseront Orthodontics
At Tisseront Orthodontics in Reston, Va., you can receive a free consultation with Dr. Stephan Tisseront to learn more about your orthodontic options. Our orthodontist takes care of children, teenagers and adults at our top-of-the-line office, and he offers these treatments:
• Lingual braces – worn on the backs of teeth
• Invisalign – aligners for teenagers or adults
• Ceramic orthodontia – made with clear wires and color-matching brackets
It is also possible to reduce your orthodontic treatment time by using a small device from AcceleDent Aura that helps to accelerate the movement of your teeth into the correct positions.
Call us today at 703-773-1200 to schedule an examination with Dr. Tisseront in our state-of-the-art orthodontic facility.
Tisseront Orthodontics
11720 Plaza America Drive, Ste. 110 Reston VA 20190-4762
Phone: (703)773-1200
Teeth-friendly Fruits & Vegetables No. 2: Celery