Last Updated on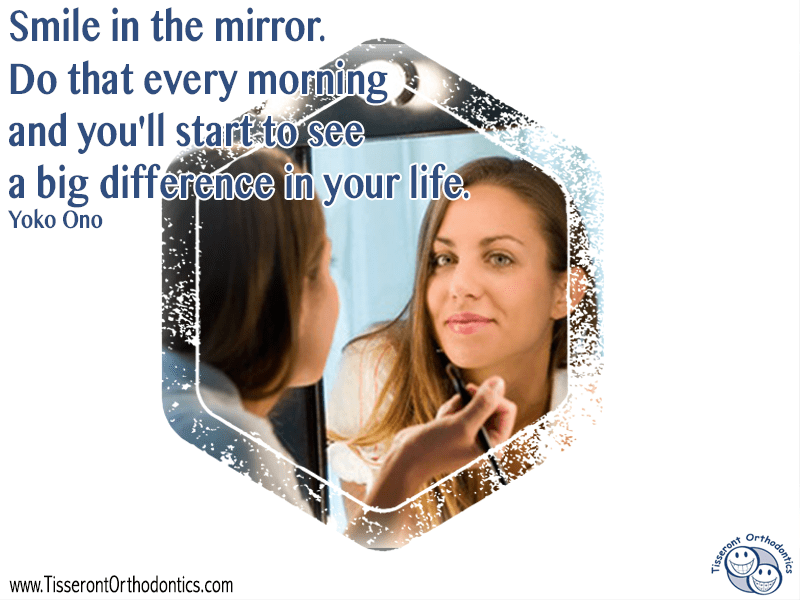 Smile in the mirror. Do that every morning and you'll start to see a big difference in your life." – Yoko Ono
See a Gorgeous Smile When You Look In the Mirror
Yoko Ono is a singer who thinks that you should wake-up in the morning and smile at yourself in the mirror to begin changing your life. If you don't like the appearance of your smile, then it is time to visit an orthodontist to learn more about your orthodontic options. Repairing your crooked teeth will improve your mental well-being because having an attractive smile is important for your self-esteem. Straight teeth will also make it easier for you to chew nutritious vegetables so that you have better physical health. By visiting an orthodontic facility for an evaluation, you can change your life.
Orthodontic Treatment Will Last a Lifetime
When you have wide spaces between your teeth, you will need to wear braces that have wires and brackets. Alternatively, if you have mild malocclusions, an orthodontist will recommend Invisalign aligners instead. Whatever type of orthodontic treatment that you require, the most important thing is having your teeth straightened so that you will have a gorgeous smile when you look in the mirror each morning. It is important to remember that orthodontic treatment typically requires four years or less. After you fix your smile with orthodontic treatment, the results will last a lifetime.
Improve Your Smile With Expert Orthodontic Treatment
In Reston, Va., you can have an examination from an expert orthodontist who treats adults, teenagers, and children. Dr. Stephan Tisseront works at Tisseront Orthodontics, providing these orthodontic treatments for his patients:
• Braces – lingual, traditional metal and ceramic
• Aligners – made using Invisalign computer software
• Retainers – to keep teeth in the correct positions
• Harmony braces – self-ligating devices
Make sure to request iTero arch wires and an AcceleDent Aura device to have the best outcome from your orthodontic treatment. Contact us today at 703-773-1200 to schedule your first orthodontic appointment at Tisseront Orthodontics.
Smile in the mirror. Do that every morning and you'll start to see a big difference in your life." – Yoko Ono
Tisseront Orthodontics
11720 Plaza America Drive, Ste. 110 Reston VA 20190-4762
Phone: (703)773-1200