Last Updated on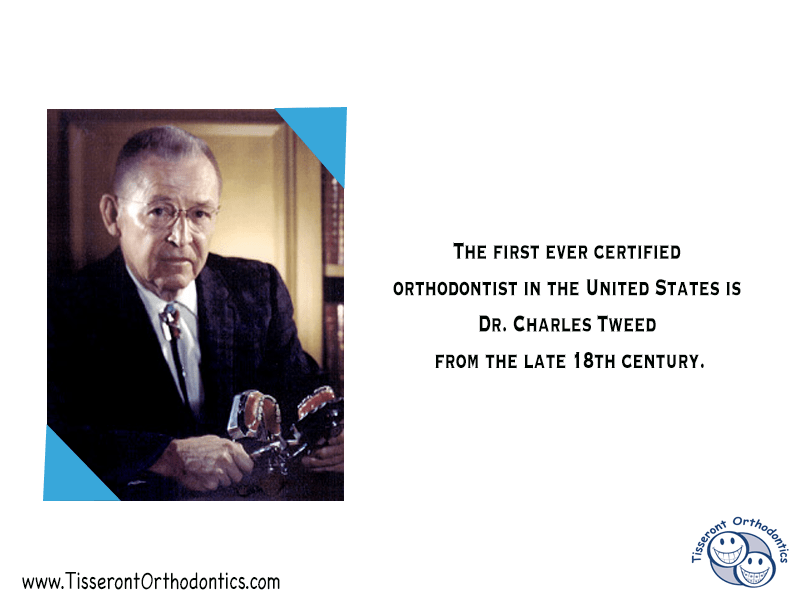 In the early 20th century, Dr. Charles Tweed became the first certified orthodontist in the United States. He was born in Arizona, then became a pre-dental student at Stanford before receiving a D.D.S. degree from the University of California in 1919. Dr. Tweed also attended the Angle School of Orthodontia located in St. Louis, Missouri, an institution set up by Dr. Edward Angle, a dentist who specialized in orthodontics and focused on spreading consistent orthodontia and training others.
A History of Orthodontics
In the days before clear aligners like Invisalign, Dr. Tweed was up against a significant challenge. In 1925, Dr. Angle invented the edgewise appliance, the bracket and wire system that we today refer to as braces. But it was Dr. Tweed who put the edgewise appliance into practice, studying the results of using the new appliance with tooth extractions and without tooth extractions. In 1940, he put over 100 results of patients under his care on presentation at the American Association of Orthodontists meeting. The results showed that careful and thoughtful extractions could make the use of braces more effective and also improve the physical look and aesthetics of a patient's mouth and face.
In 1947, the orthodontist founded the Charles H. Tweed Foundation for Orthodontic Research, allowing orthodontists from around the country to share their knowledge and research, instruct one another, and present papers. In 1966, Dr. Tweed published a textbook called "Clinical Orthodontics," a seminal book in the field and the conclusion of over forty years of the study and practice of orthodontia.
Before the age of contemporary technologies, such as Invisalign, Dr. Tweed revolutionized the use of Dr. Angle's edgewise appliance by incorporating tooth extractions as needed to achieve the best possible results. In the spirit of Dr. Tweed's incredible achievements, call an orthodontist today to set up an appointment and discuss ways to achieve a bright and brilliant smile.
Call to learn more about braces treatment and Invisalign. Schedule an exam with the orthodontist to find out if you can benefit from treatment such as Invisalign. You may have a brand new smile before you know it!