Last Updated on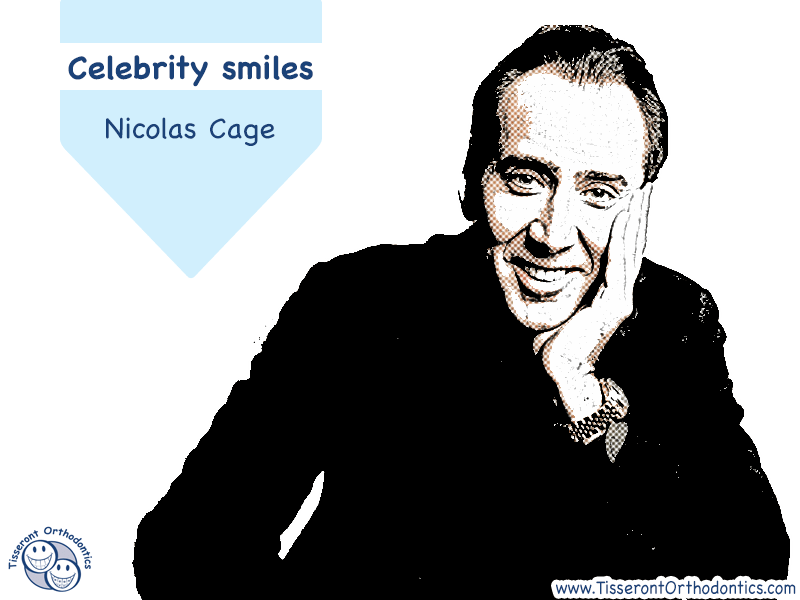 When you think of celebrities with great smiles, you think of guys like Tom Cruise and George Clooney, or Nicolas Cage. Nicolas Cage deserves to be on that list because he has something in common with each of those celebrities: All of them have undergone orthodontic procedures. That's right, Nicolas Cage and a host of other celebrities haven't always had those white, gleaming, perfectly aligned teeth. Many celebrities have effectively boosted their smile with the help of Invisalign guards, teeth whitening treatments and several other orthodontic treatments.
There is no denying Nicolas Cage is a unique actor who marches to the beat of his own drum. Before shooting the 1984 film "Birdy," Cage had two teeth pulled to make his character's role more authentic. His teeth weren't exactly in great shape before the missing teeth thing, so the loss wasn't too damaging to his career.
Cage may have regretted the decision to purposely dishevel his choppers if it were not for his orthodontist. Soon after Birdy's release, Cage's career gained momentum as he started landing lead roles, and the guy who once treated his teeth as a war token now needed some help.
Over the course of his career Nicolas Cage has had multiple orthodontic treatments and procedures. His first orthodontic treatment involved a veneer implant. After veneers, Cage eventually moved on to braces. He was even spotted sporting silver braces across his lower teeth at the Annual Writers Guild awards in 2003.
After getting straightened out with braces Cage tried teeth whitening treatments. Thanks to the consistent combination of teeth whitening treatments and Invisalign guards, Nicolas Cage's wide smile has been big, white and dazzling ever since.
Free Consultations
Dr. Stephan Tisseront has an orthodontic practice in Reston, Va., where he treats children, teenagers and adults. Tisseront Orthodontics has top-of-the-line diagnostic equipment to determine if orthodontic treatment is necessary. Patients at Tisseront Orthodontics might need to wear:
• Removable Invisalign aligners made of clear plastic
• Lingual devices worn on the backs of your teeth
• Surgical treatments for serious orthodontic problems
• Retainers to maintain the positions of your teeth
Lingual devices worn on the backs of teeth are extremely popular to avoid having noticeable wires and braces, and Dr. Tisseront offers the Harmony and Incognito brands. Make a telephone call to 703-773-1200 to schedule your free consultation.
Tisseront Orthodontics
11720 Plaza America Drive, Ste. 110 Reston VA 20190-4762
Phone: (703)773-1200
Orthodontic Celebrity smiles: Nicolas Cage