Last Updated on 
When you look at a celebrity like Justin Bieber, it's easy to think that they have always had a perfect smile. However, celebrities often struggle with the same types of oral health issues as everyone else. Even pop stars are not immune to problems such as crooked or misaligned teeth. In fact, many celebrities such as Bieber begin their career in childhood. Which means that they were performing in front of audiences during the prime time when people are more likely to wear orthodontic appliances.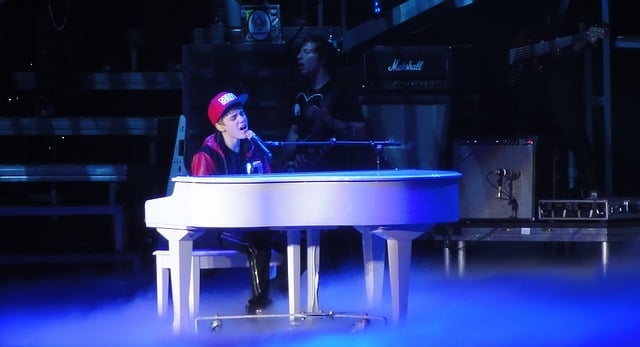 Justin Bieber & Friends
Fortunately, dental technology has come a long way in recent years. You'll discover that many people in high profile positions choose to wear invisible aligners for a multitude of reasons. These reasons can also influence your decision regarding orthodontic treatment.
Improve Your Overall Facial Appearance
While people tend to hone in on their smile, the truth is that many orthodontic issues also affect your outward appearance. For instance, an underbite can cause your chin to be more prominent from a profile view. Your lips, cheeks and the smoothness of your skin are all affected by how your teeth and jaws are aligned. For famous faces, even the slightest imperfection in their smile can generate drastic changes in how they appear on stage or in a film. Naturally, you may not have the same high aesthetic needs as a celebrity. But you should still feel confident with how you look from every angle. You'll also enjoy knowing that you are in the company of Justin Bieber and other celebrities who also used Invisalign to increase the aesthetics of their smile.
Orthodontic treatment that involves the use of clear plastic aligner trays helps to correct flaws in your facial appearance without attracting unwanted attention to the fact that you are wearing braces. Over time, you'll notice the gradual changes in the way your facial features appear without having to make drastic changes that are obvious to other people. This level of discretion is exactly why celebrities turn to this type of treatment to enhance their appearance.
Avoid Alterations to Your Speech
In the past, one of the biggest complaints about orthodontic treatment is that bulky appliances would affect their speech. After all, no one wants to deal with a lisp when they are at school or at work. Celebrities such as Justin Bieber rely upon being able to successfully enunciate their words and carry a tune without being hindered. For this reason, they tend to opt for clear plastic aligners. That allows them to continue to talk, sing and laugh as they always have in the past. While you may need a little practice to get used to talking with your aligners in, you will discover that you can quickly talk normally. Which is ideal if you do public speaking for work or give class presentations at school.
Continue to Enjoy Your Favorite Activities
Traditional metal braces are sometimes necessary to correct severe orthodontic issues, and they are effective for improving your smile when other options are not possible. However, options such as clear aligner trays allow you to avoid some of the restrictions that come with metal appliances. For a celebrity, being able to play sports, exercise and eat what they want is important since these activities all affect their public persona.
For example, a famous person who does commercials might have to turn down a job that required them to eat sticky or hard foods if they wore a metal appliance. Or a sports star may have to use caution during competitions if they had metal brackets and wires in their mouth. With clear plastic aligner trays, you can still do anything you want. If it is necessary, you just take them out while you eat or play sports. And then pop them back in again.
Keep in mind that your orthodontist will give you a recommended schedule for wearing the trays. Most people need to wear them the majority of the day and night. However, being able to remove them for a few minutes to participate in events such as a photo opportunity or snack makes a big difference in your overall lifestyle.
Enjoy More Freedom to Travel
Famous actors and musicians are often required to travel frequently. This tends to pose a challenge for wearing traditional metal types of orthodontic treatment. Since those require a person to visit their orthodontist every couple of weeks for adjustments. Clear aligner trays work differently since you just change them out as needed.
While you will still need to go to the orthodontic office for occasional checks on your progress, these are less frequent than what is required with other types of appliances. Even if you don't travel as often as a rock star, having this extra bit of freedom could make a difference in you being able to take that position at work that requires travel or that international study trip for school.
See Significant Changes In a Short Period of Time
For famous faces, even a few weeks of downtime can make a big difference in their career. Celebrities don't have years to wait for their teeth to straighten out. And you shouldn't have to wait that long either. When you first go to a consultation for Invisalign, a 3-D rendering is made of your mouth using computer technology that is then used to produce the trays. This allows your treatment to be more precise than other methods, and you should notice faster results.
In most cases, you will simply change out your aligner trays about every two weeks. And most people see noticeable differences within a few months. While your treatment could still take up to a year or longer for severely crooked teeth, seeing these results right away helps you to stay motivated to continue with your treatment. You'll also love the ability to see the transformation occur right before your very eyes. And only a few weeks of treatment tends to show noticeable changes in your photos.
Contact us Today
At Tisseront Orthodontics, we love giving our patients the opportunity to feel like Justin Bieber every time they smile. Give Dr. Tisseront a call today to find out your treatment options to discreetly and quickly straighten your teeth.


Like what you read? Comment below or CLICK on an APP LOGO to follow us and share the conversation
Tisseront Orthodontics
11720 Plaza America Drive
Ste. 110 Reston
VA 20190
Phone: (703)773-1200
Justin Bieber and Celebs Use Invisalign (READ WHY)