Last Updated on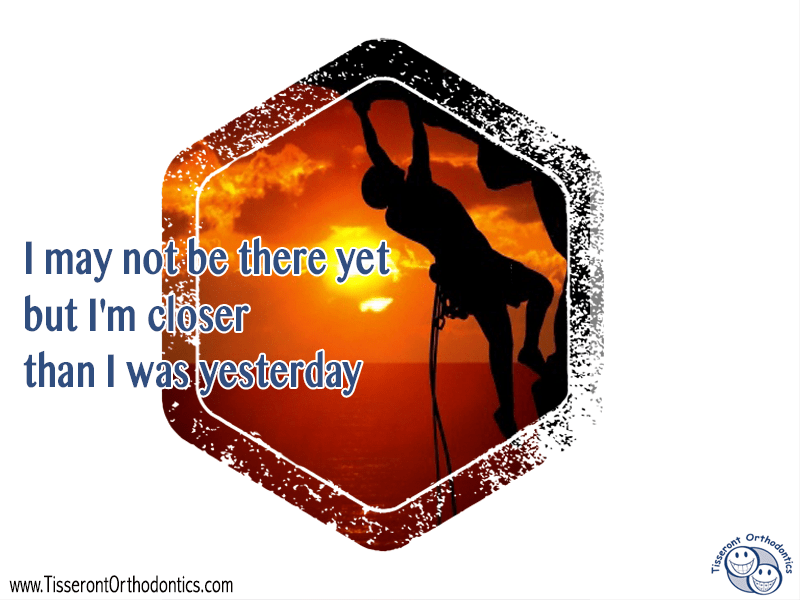 I may not be there yet but I'm closer than I was yesterday.
Orthodontic Treatment Is Faster Today Than In the Past
When you are wearing aligners, the process of fixing your teeth and smile may seem as though it is taking forever, but it is important to remember that you may not be there yet, but you are closer than you were yesterday. Treatment with aligners can require as little as six months, but in some cases, you must wear the devices for a year. While this might seem like it is a long time, it is actually faster than wearing braces on your teeth. Invisalign aligners are designed for fixing mild to moderate misalignments, but when you have serious malocclusions, an orthodontist will recommend braces for your teeth instead.
Enjoy the Benefits from Having Straighter Teeth
Treatment with braces will require more time, and this might seem frustrating, but when you consider the benefits of having straighter teeth, it is worth it. You might have a concern about having a gorgeous smile, but having perfectly aligned teeth makes it easier to consume healthy foods such as lean chicken, cooked vegetables and slices of fresh fruit. In addition, when your teeth are in the correct positions, you are able to talk better. If your teeth are too close together, then wearing orthodontic devices will make it easier to brush and floss your teeth. Undergoing orthodontic treatment is vital for your overall well-being.
Contact Us to Learn More About Our Orthodontic Treatments
At Tisseront Orthodontics in Reston, Va., an orthodontist will examine your teeth carefully to determine if you require fast or long-term treatment. Dr. Stephan Tisseront provides a top-notch evaluation of your teeth to provide one or more of these types of treatments:
• Clear plastic aligners from Invisalign
• Harmony or Incognito lingual devices
• Surgery for seriously misaligned teeth
Call us today at 703-773-1200 to schedule your free orthodontic consultation with our orthodontist.